David Ross Cigarette Filters, Minifilters, and Cigarette Holders:

New to us, and already raved over by customers who prefer a filtered smoke, this Italian series:

filters nicotine by over 60%

without affecting the flavour

We genuinely like the Ross's - for the cigarette holder construction quality, the filter, the draw and the delivered taste, we give these top marks, and thus, top billing.

"Love the Ross holders - love, love, love them!"

"Best filtered ever.  Please keep these in stock."

"Gorgeous, great tasting, very very satisfied."

"The Briar is my fave filter!"

Filtered Holder Refills

(box of 20 filters)        $3.99

2.5 inch Briar Cigarette Holder, with extra filters, an alternate mouthpiece and carrying case

(This gorgeous piece is a customer favourite - and we love it.)   

$39.99                                                   

2.5 inch 'Midi' Wood Line Cigarette Holder, with extra filters, a single mouthpiece and a fitted acrylic carrying case 

Available in, from left to right, Blue Topaz, Platinum, and Jet Black

$34.99  

2.5 inch 'Pearl' Wood Line Cigarette Holder, with extra filters, an alternate mouthpiece

and carrying case   

$29.99                                                   

(Our favourite filtered holder for standard size cigarettes.  Superb taste, a slightly slimmer diameter for a very comfortable fit in the hand and an exceptionally nice draw - the included single mouthpiece is also our first choice of all the filtered versions.  The barrel of the Pearl is a lucite, the barrel of the Midi is metal and we vastly prefer the metal construction.)  

Filters, Box of 20   $7.99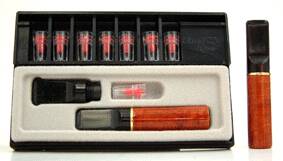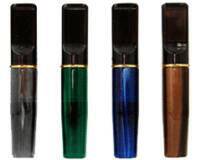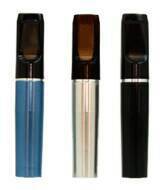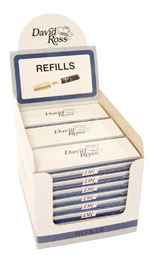 All Rights Reserved TheLadySmokes.com  2006 - 2013